moderncleveland
home | neighborhoods | places | restaurants | shops | film | travel | music | radio | recipes | events | about | links

---
Thank Goodness for Cleveland Radio!
Cleveland has always been a big radio town. Some of the earliest radio broadcasts were in Cleveland and it was one of the first major cities to have regular commercial radio broadcasts. WHK was the first radio station in Cleveland, and one of the first five radio stations to broadcast in the entire US. This happened on July 26, 1921. Live jazz and big band were popular radio formats in the 1920s and '30s.

In 1946 Cleveland was one of the first US cities to have an "experimental" FM license. WHK was the first in town to hold this license, back in August of 1946. WHK, broadcast at 107.1, allowed Clevelanders to hear classical music over the FM airwaves for the first time. WHK aired a few classical music shows, including "Great Classics" and an evening "Opera" show.

In the 1950s, Cleveland disk jockeys set the trends in music across the nation; many were nationally recognized radio personalities, including Bill Randle who was responsible for the rise of many acts, including Tony Bennett, Rosemary Clooney, and the discovery of one of rock 'n roll's greatest icons, Elvis Presley. Alan Freed is credited with having coined the term "Rock 'n Roll." Cleveland is very fortunate to have some of these outstanding and legendary deejays still broadcasting here today, such as the "Captain" Carl Reese and "Tall" Ted Hallaman.

In 1962, sixteen years after the first symphonies, operas and chamber music were broadcast in stereo, Robert Conrad took over WVGO FM and turned it into a classical station. Four days after this, the call letters were changed to WCLV. This beloved Cleveland station has been on the air ever since, and is still directed by Mr. Conrad.

Through the 1970s and '80s, Cleveland was on the forefront of AOR radio with WMMS and "rock jocks" like Kid Leo, and Cleveland's exceptional college radio supported the indie rock movement of the 1990s.

Early DJs were literate and passionate about whatever genre they'd play -- to the point of actually seeking out and trying to promote new talents. Bill Randle would put together shows at local high schools! He had such a talent for seeking out new groups and musicians that NBC actually paid to have him transported to New York every weekend to do a Saturday show for them, while keeping his full-time schedule here in Cleveland! Today, changes in the radio business have made this kind of local individualism nearly impossible: most stations are owned by radio conglomerates and not private entrepreneurs; several unrelated stations in the same market might be owned by the same out-of-town corporation, whose statistics-driven programming leave no room for individuality. At these corporations, DJs have no control at all, and they're switched around as needed -- regardless of their musical interests, knowledge, and dedication to the local community.

But, unlike many other large cities in our nation, Cleveland is fortunate to still have a few non-conglomerate, locally-owned stations, and radio personalities who are broadcasting music they care about. Cleveland-owned stations include a 24/7 classical station, fabulous Mid-Century stations on both AM and FM bands, and good college radio stations that play just about anything and everything.
Cleveland area radio stations
AM
You'll be able to pick up stations from a much further distance away on AM than you will on FM. On some nights, I can get stations from Chicago, Boston, and New Orleans!
On some very old equipment, AM will be labeled "BC" which stands for "broadcast." Outside of the USA, it is sometimes known as Medium Wave (MW).
If you have a good antenna and the conditions are right, you might be able to pick up CKWW 580 AM broadcasting out of Windsor, Ontario. They play adult standards. Wayne Stevens has a nice afternoon show.

WNZK 680/690 AM is a Detroit radio station, and is hard to pick up in Cleveland. But it's worth trying to -- it's home to Bob Allison's Ask Your Neighbor, a show that's been running since before I was born! Share your best recipes and household hints on this program. Listen over the Internet on weekdays at 9am. I have Bill Randle's Ask Your Neighbor Cookbook from the early 1970s. Can there be a connection?

Canadian CHWO 740 AM is more familiar to its listeners by the order they use in their old-fashioned ID jingle, "AM 740." Even though it's located in Toronto, this popular "All Time Favorites" station with a nice selection of music can be easily tuned in on this side of Lake Erie -- in the Cleveland area, it takes a good antenna and the right weather conditions. In the Summer of 2003, AM740 ranked seventh (out of twenty) most tuned-in Toronto stations for all age groups.

You can easily pick up "The Great Voice of the Great Lakes," Detroit's WJR 760 AM, "broadcasting from the golden tower of the Fisher Building," which is a news and talk station that has been around for over 80 years! They had a live symphony orchestra in the building up until the early 1970s and in the old days it was not uncommon to see Tony Bennett or Jimmy Durante walking the halls on the way to do a live performance on the air when passing through town.

On Saturday mornings you can listen to Joe Gagnon (rhymes with 'cannon'), the "Appliance Doctor," and his tips and advice offered to live call-ins on maintaining and repairing everything from your refrigerator to your washing machine to the benefits of restoring a mid-century modern kitchen.

Check out Joe Gagnon's book, Words and Wisdom of the Appliance Doctor.

We asked him about vintage appliances and he agreed -- "they don't make 'em like they used to," so call in if you've got repair or maintenance questions about your vintage appliances or vintage kitchen!

WLS 890 AM is a news and talk radio station that broadcasts from Chicago, Illinois. Known as the "Big 89," the station has a long history, going back to the 1920s. According to their coverage map, it should fade out by about Toledo, but we can pick it up from the west side of Cleveland!

WTAM 1100 AM is a talk radio station where on Sunday nights you can hear Rick Gilmour, and Paul Harvey can be heard every day of the week for news at 8:35am and 11:35am, and "The Rest of the Story" at 3:05pm. He's also on at noon on Saturdays (and you can also pick him up on Detroit's WJR). He does speak up against sprawl, but has one too many little commercials for the one of sprawl's greatest catalysts -- Wal-Mart. Tune out the Wal-Mart propaganda (diagnosis and antidote) and enjoy his interesting news stories. On some late nights, you can catch old WCSB legendary caller Gilly who has a talk show on here now.

WCWA 1280 AM broadcasts out of Toledo.

WERE 1300 AM is a long-time Cleveland news and talk radio favorite.

WERE has a variety of interesting programming throughout the week. At night you can sometimes pick up educational and entertaining radio dramas which tell the story of famous people, like Booker T. Washington. They also have syndicated programs such as "The Next Dimension."

WELW 1330 AM is a locally owned and operated Oldies station. From their FAQ, they play "music you remember from the great AM stations you grew up with like WIXY, KYW, WHK and CKLW." You can also listen online.

Don't forget to join their Oldies 1330 Club. And, while you're visiting their site, you'll also want to check out Alice Kuhar's Recipes.

Broadcast from Sandusky Ohio, WLEC 1450 AM's "Classy Music for Classy People" is my choice for Vacationland listening. WLEC has a long history of wonderful music and great deejays. If your antenna is good you can also pick it up here in Cleveland!

On 1510 AM you'll sometimes get interference (from Kent's 1520?), but on late nights and very early mornings when nothing local is broadcasting around it, you can pick up talk-radio WLAC out of Nashville, Tennessee! Until 6 am you'll hear the syndicated "Coast To Coast" show!

WJMP 1520 AM is a big band station broadcasting from Kent that plays "the music of your life."

"Real Oldies" WSAI 1530 AM is a fun, old-fashioned rock-n-roll and doo-wop station from "the Tri-State area" (Ohio near Cincinnati and the neighboring states of Kentucky and Indiana) that plays what I call high-school teeny-bopper music: songs like "Tequila," "The Jungle Song," and "April Love," and performers like Little Richard, Frankie Avalon, and The Orlons. They have a nicely varied program schedule that includes "Dial-A-Hit," "Little Walter's Time Machine," and DJ Dusty Rhodes' "Lost Oldie."

If you can't pick them up where you're at (like in parts of Cleveland or in your school's science lab), you can always try their streaming Internet broadcast. You'll be able to get them whether you're in school or work because they support Linux!

WAKR 1590 AM is a big band station in Akron.
FM
WBWC 88.3FM, a small local college station, is broadcast from Baldwin-Wallace College. On Sunday evenings from 6:00 until 9:00 you can catch Berea resident "Commander" Greg Miller doing his show, Golden Age of Rock and Roll, where he serves up a hot platter of fifties doo-wop, bubble gum, rock-a-billy and surf rock, some of it from obscure artists and old forgotten 45s. And the award-winning 1900 YESTERDAY plays rare recordings from the early 1900s, on every Sunday evening at 5:05 (right before Greg Miller's show).

On Sundays, you'll want to tune in to Akron's WSTB 88.9FM to listen to Sunday Oldies Jukebox. If you're unable to tune in to WSTB on your hi-fi, you can always listen live via their Web site. On other days of the week, this non-commerical station plays a mix of modern rock.

Cleveland State University's radio station, WCSB 89.3 FM, was the first radio station in Ohio to broadcast over the Internet, and among the first in the nation to do so. Broadcast from the ninth floor of Rhodes Tower, radio station WCSB has always had an excellent variety of programs, from the legendary all-night talk shows of Steve Wainstead, Mitch Mann and Jimmy (where the compulsively frequent callers were as important to the show as the deejay, including Gilly, the Pigman, Scuba Guy) to a number of indie rock shows and other shows you just won't find on commercial radio (though they often lamely tried to imitate, like when WMMS copied Mitch Mann's "You Suck Radio" segment right down to keeping the same name).

An interesting show in the current line-up is Bruce Berger's "Rare Finds" which features hard-to-find, obscure bits of the past; features about various artists from Rosemary Clooney to Marlene Dietrich; clips from Rat Pack sessions featuring the antics of Dean Martin, Sammy Davis Jr, and Frank Sinatra. Bruce's show is on every Thursday from 3-4pm. Another favorite of mine is Elizabeth's long-running early Friday morning show "Cool Chick #59" where she plays indie-rock that is by her description "sleepy crunchy music."

And you won't want to miss Dr. Joe Wendel's "German Program" every Sunday from 10am until 12noon. Dr. Wendel's program offers a mix of German music and very informative news updates, as well as short history lessons about our country, World War II and other interesting topics. Dr. Wendel also broadcasts a show on WCPN 90.3 at 8pm on Satuday nights.

WRUW 91.1 FM is a college radio station broadcast from the campus of Case Western Reserve University. Not only does WRUW broadcast over the Net, but they also have an online archive of all of the week's recent shows, which is thoughtful.

Domestic Decay Stella is on Wednesday nights from 6-7:30pm EST.

WKHR 91.5 FM is a volunteer-run, non-commerical radio station featuring big band, mid-century jazz, and pop classics. Depending on when you tune in you can hear some really wild jazz, and on Sunday nights Lady J brings you in on the A Train. Legendary disk jockey "Tall" Ted Hallaman, formerly of WRMR 850AM (and then 1420AM), can be heard here on Tuesday and Wednesday afternoons.

WKHR's chief engineer, Bill Weisinger, offers a series of articles on improving your reception which are especially helpful to those living on Cleveland's west side.

As of September 2004, WKHR also broadcasts on the Internet! To listen online, click on the LISTEN ONLINE! link in the upper left-hand corner of their home page.

Cleveland's only independently-owned classical music station, WCLV 104.9 FM, has existed since the 1960s in its FM form. Now 104.9 FM (formerly 95.5 FM), WCLV-FM is one of the few remaining 24/7 classical music stations in the United States. They celebrated their 40th anniversary by publishing a timeline of the station's history. Robert Conrad is the Music Director of WCLV.

You can listen to WCLV over the Internet. They have an Ogg Vorbis live Internet broadcasts 24 hours a day! Both lo-fi and hi-fi streams are available. Ogg has a noticeably higher quality than the older MP3, and being open source itself, it's very Linux compatible.

Visit their online forum for discussion between listeners and staff.
Shortwave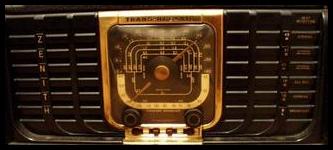 Shortwave radio is a favorite medium of mine. You can listen to the Vienna Philharmonic live from Austria and get language lessons from Chinese to French. And you can find out what's really going on in the world -- there's so many programs from different lands, broadcasting information that you can't get from the US mainstream media cartel. Get news from where the news is happening!
Because of the time difference and the large and growing English-speaking audience, many programs from all around the globe are usually broadcast in English in the evenings.
Glenn Hauser is the authority on shortwave and DXing and his "World of Radio" site is a must-see. WOR is also broadcast on shortwave.
hfradio offers up-to-date propegation reports for shortwave dx-ers and a pretty active forum for shortwave and amateur radio enthusiasts to share their stories and post any questions they might have.
Check out suburban Clevelander Dave Kirby's cyber shortwade and old-time radio site at www.N1DK.com.
Another shortwave pastime of mine is making and finding cool sounds.
Fun with Shortwave Spy Stations.
You'll want to print out Bill McFadden's handy shortwave chart and keep it nearby when listening to your shortwave. Also see the Shortwave Radio FAQ.
A new Shortwave Frequency Sort is now available on the new improved Prime Time Shortwave website with schedules sorted by time or by country and a DX media program guide with links to some of the best radio related websites and international broadcasters.
Hear what shortwave DXing from 30 and 40 years ago sounded like from Pentti Stenman's online collection of short MP3s. Most of these recordings are from Latin America, but there are also many from Southeast Asia and the Western Pacific. (Also on this site is a nice scan of a WERE QSL from 1965!)
The International Listener site is an excellent shortwave resource.
Marion's Attic is a weekly shortwave show playing the more obscure older recordings (78's) by a nice old lady named Marion. She can't get out much anymore but she likes to share these old records with anyone who will listen. It is broadcast on WBCQ - The Planet from Monticello, Maine. Marion herself is from Connecticut.
The radio spectrum

There are more bands on the spectrum than just AM, FM, and Shortwave. Frequencies are allocated by the U.S. Government. The National Telecommunications and Information Administration (NTIA), an agency of the U.S. Department of Commerce, allocate and manage its use from their Office of Spectrum Management.
The NTIA/OSM publishes a US Frequency Allocation Chart, which neatly depicts the various radio bands and their purposes. This radio spectrum chart is worth studying. It is available for download [1MB PDF file] and is also available for order online, in the form of an attractive wall poster -- perfect for hanging in your radio shack, above your shortwave.
DX-ing fun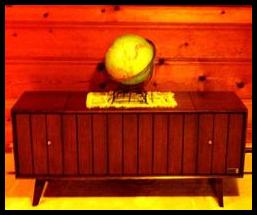 DXing is searching the dial for and tuning in to and identifying far-away radio signals and stations. The "d" stands for distance and the "x" stands for transmitter. Some radio hobbyists specialize in DXing on the AM band or Shortwave; I like them both. You can keep a log to record your findings.
Here's a nice DXing FAQ.
Radio reception is often an issue. A good antenna is important. If you don't have one, they are simple and inexpensive to make. Bill Weisinger's articles on improving your FM reception, although written for WKHR, can be applied generally. WCLV offers a helpful guide to improving your reception for both AM and FM listening. There is also a long list of AM reception tips courtesy of one talk radio listener. How to Get Better AM Radio Reception explains the importance of antennas for MW DXing. You can also try different radios and compare reception.
This site is sponsored by Universal Radio Research and features late-breaking listening digests and DXpedition logs.
Check out hard core DX for serious DXing!
You'll also want to take a look at these articles about improving your radio reception.
Radio airchecks
Radio airchecks are tape recordings of radio broadcasts. Many are available on LP, CD, or other recorded medium, as well as online -- digital files are the new preferred recording format. Old-time radio (below) and college radio shows (and their varied station IDs) are popular categories. Some people enjoy making and trading airchecks. Collecting them is a favorite hobby of my husband's, as evidenced by his enormous collection of tapes. "Scoped" airchecks are shortened versions where the music and commercials are removed.
The Reel Top 40 Radio Repository is an aircheck museum of radio history, with over 1,200 selections and weekly updates since 1996.
The site manfrommars.com is an excellent resource for radio airchecks. It has a huge list of airchecks available, including many from Cleveland going back to at least the 1940s. You can hear how it was back then and download them as digitized files!
Airchexx: "where classic radio lives"
Gary Pfiefer's radio airchecks are organized by state. Includes links to many other aircheck lists.
A nice collection of airchecks can be found at RadioTimeline.com. The site also has radio history, broadcast news, links to disk jockeys across the nation, and memorabilia.
Also see the collected radio recordings available for purchase at radiospirits.com.
A favorite category of airchecks for many is "old time radio," recordings from radio's golden era. You can listen on the Web and you can collect OTR recordings on record, tape, CD, and computer file. Many people find this a rewarding hobby. RadioLovers.com is an old time radio archive, consisting of hundreds of vintage radio shows, all ready for the listening! RadioLovers offers comedies such as George Burns; dramas including the great detective Charlie Chan; mysteries with the often-creepy Boris Karloff; variety shows like Arthur Godfrey; Big Band stars and shows; and Sci-Fi.
RadioLovers also have an archive of the Bob Hope Show, recorded from broadcasts past -- "Bob Hope in Cleveland," "Bob Hope with Al Jolson," "With Bing Crosby," "No Date from Bob's Hometown Cleveland," and more!
Archives of some old shows and music are available from Antique Radios. Listen to your favorite old-time radio programs via their online archive. Antique Radios is a very complete site that also has sections for an ad-free, spam-free forum, a chat board and even a value guide to help you price your vintage radios.
Former radio personality Doug Allen is a jingle archivist and now maintains Jinglefreaks.com, where his growing collection of radio jingles is available online.
Vintage airchecks from the 1950s to the 1990s is a directory of other sites. There is also a DMOZ directory.
Radio-info.com has a chat board for aircheck collectors.
Radio equipment and collecting
Collecting vintage radios is becoming a big hobby. Collectible units sometimes need repair, but there are still good radio and hi-fi repair services out there. Oftentimes it's more economical to get your equipment serviced than it is to buy a replacement.
When your hi-fi equipment needs servicing, take it to Play It Again Sam in Lakewood, whose in-house repair service comes highly recommended. They can get your vintage and recent model turntables, receivers, radios and other stereo equipment working again.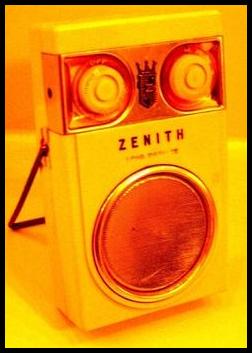 While Play It Again Sam doesn't fix broken transistor radios, you can still get them repaired! Jim's Transistor Restorations, a mail-order service out of South Carolina, comes highly recommended for this task. He's prompt, courteous and very affordable. Contact proprietor Jim Barnard by email at jbarnard@ftc-i.net.
There are sites dedicated to repair and preservation of old radios. A few of the big ones are vintage-radio.com and Nostalgia Air.
A number of battery shops in town carry hard-to-find transistor radio batteries.
Antique Radio Classified is an important source for buying and selling your antique radios. It's a paper magazine, but you can read selections from back issues on their archives section. Listings of events and radio clubs also available.
Classic Radio Gallery has images of many different kinds of vintage radios and accessories for sale.
Lin Robertson's Old-Time Radio Page has a lot of information for antique radio collectors.
Radiophile.com is one man's impressive collection of old radios and related equipment, including a beautiful display of vintage transistor radios.
Antique Radio Page galleries by decade.
A site dedicated to the preservation of early stereo equipment is Terry's Vintage Home Entertainment Technology which contains accounts of actual restorations, with story and photos.
Collecting catalin radios:
Said to be the finest HF radio ever built is the R390A from the 1950s, with 21 vacuum tubes and nearly a hundred pounds!
Fair Radio Sales in Lima, Ohio offer military electronic surplus and have R-390A radios available.
When it comes to brand new and the state of the art, C. Crane sell the best stuff. For quality AM radio, the "Appliance Doctor" Joe Gagnon says theirs is the best that was ever made.
Reviews of new digital shortwave radios
Local radio clubs
Parma Radio Club, serving Cleveland area hams since 1948.
The Wesk Park Radiops have been doing amateur radio in the West Park neighborhood of Cleveland for more than fifty-five years!
And for those who just can't get enough ... more interesting radio sites!
Radio-info.com has a chat board for Cleveland radio talk.
Chuck Taggart loves everything about radio, as you'll see from his "I Love Radio" page. He maintains a large listing of non-commercial radio stations from around the world.
Radio Hall of Fame is part of the Museum of Broadcast Communications in Chicago, Illinois.
This enormous US radio and TV directory is an incredible resource for radio stations and station news updates.
Go to RFfun.com for Universal Radio in Reynoldsburg, Ohio for used and new radios and scanners for sale, and many fun links.
Greg Schimmel's Radio Intrigue is like a DX weblog -- this site lists one man's DXing finds.
AM in the 21st century -- it's easier than ever to broadcast on AM.
A wonderful resource is the Cleveland Broadcast Radio Archives site. Check it out! And while you're there, make sure you take a look at these old pictures from the WHK photo archives and this WERE timeline beginning with Bill Randle in 1949. The Cleveland Broadcast Radio Archives also offers some old, digitized airchecks! This site also has a great detailed timeline of Cleveland's venerable classical FM station, WCLV.
In 2000, Bill Randle was the recipient of the Lifetime Achievement A.I.R. Award which was read into the Congressional Record on January 24, 2000.
DXing midAMerica: tips, finds, and up-to-date news on DXing this part of the country. Has propogation reports, common abbreviations, and an introductory guide for those new to the hobby. He also gives travel tips for DXing on the road.
Stan Freberg Here: an archive of over 450 of them, plus lots of info on Stan the man.
Encouraging more interaction between radio monitoring hobbyists is the goal of CyberShortwave. He even has an IRC channel for realtime chat.
If you have a scanner, you can have fun exploring Cleveland scanner frequencies.
How awful is the radio in your city? Take WFMU's simple test and find out.
-- 73s! --
---
Remember to say you saw it on moderncleveland.com!
If you have anything to add about Cleveland radio, I'd like to hear from you!
Most recent update: $Date: 2006/02/02 13:43:04 $