moderncleveland
home | neighborhoods | places | restaurants | shops | film | travel | music | radio | recipes | events | about | links

---
Film in Cleveland
Movie Rentals
Here are my recommended Cleveland-area resources for renting unique, older and more obscure films.

The Cuyahoga County Public Library system has an impressive film collection. If you request materials online, you can have items shipped from any branch to your local branch for pick-up.

What began as the owner's private collection, Satch's Video is the best place that I know of for renting difficult-to-find classic films from Hollywood's Golden Age. It's in downtown Sandusky, about an hour's drive west of Cleveland -- but if you're a fan of films from the '30s, '40s and '50s, a visit to this downtown Sandusky video shop is well worth the trip!

Satch's has all of your more common favorites, as well as more obscure films. You can expect to find rows of films for Alfred Hitchcock, the Bing Crosby / Bob Hope Road series, The Three Stooges, and many popular features starring Dean Martin, Katharine Hepburn, Cary Grant, James Cagney, Orson Welles, Marlene Dietrich and Greta Garbo, plus Deanna Durbin films, the Charlie Chan series, and even a very rare Sinatra film that was pulled from distribution shortly after it was released. Near the register is a special rack containing the Top 100 American Films, as published by the American Film Institute.

With such an impressive collection of the classics along with their newer movies, it wasn't surprising to learn that proprietors Kirk and Mary Zimmerman have more than a few regular members who make drive from Cleveland. Not only does Satch's mid-century selection beat that of any larger chain like Blockbuster or Hollywood, but their prices are much lower, too; membership is only $10 a month for 10 tapes, or $20 a month for 24 tapes.
Satch's Video, (419) 621-8774, 136 E. Market St, Sandusky, OH 44870
Movie Theaters and Venues
There aren't too many old time movie theatres around anymore, the kind you can walk to along Main Streets, with a few huge screens and grand, ornate interiors. The Golden Age of cinema is over, and now Hollywood offers only quantity, not quality. As a result, the older theaters are falling by the wayside, and all they build today are twenty smaller screens packed into a single generic venue. One example was the historic Berea Theater, which is now a parking lot.
Cinema Treasures is a great site dedicated to preserving and promoting classic theaters.
Located in the Cleveland Institute of Art building, The Cleveland Cinematheque features many different movies from the classics to independent art films of the past and present.
The Cleveland Cinematheque, (216) 421-7450, 11141 East Blvd, Cleveland, OH 44106
The Cedar Lee Threatre is from before the age of cramped 10 screen theaters and features some of the better films that you won't find in today's micro-theaters.
Cleveland Cinema Cedar Lee, (440) 717-4696, 2163 Lee Rd, Cleveland, OH 44118
Sadly, the Parma Theater was redecoated a few years ago and a lot of the original finish and trim appears to have been nullified, but it's still an old-time neighborhood theatre with a nice large marquee and is worth supporting.
Parma Theater, (440) 885-0600, 5826 Ridge Rd. Parma, Oh 44129
Another historic old-time theater that's still functioning today is the Detroit Theater in Lakewood. It's a second-run theater -- $3.50 for all shows, all ages. The Lakewood Buzz hosts a schedule for the theater, along with a photo of the theater as it was in 1961.
Detroit Theater, (216) 521-2245, 16407 Detroit Rd, Lakewood, OH 44107
Does anyone know what's happening with the theater on Hilliard in Lakewood? It's grand, old, nice -- and vacant.
Drive-Ins
The drive-in movie theater is a concept invented by Richard M. Hollingshead, Jr. The first drive-in theater opened in 1933 in Camden, New Jersey. Only five years later, Cleveland had a drive-in too. Their popularity peaked in the 1950s, but drive-in groups, such as the Drive-in Theater Mueseum, have been formed as recently as the late 1990s.
There are no drive-ins left standing in the state of their birth any more, and only a little over 18% of the country's original 8,000 theaters are still standing. Drive-ins.com is called "the definitive resource for drive-in information"; both currentand closed are documented, they have comment boards and information on opening and maintaining your own drive-in movie theatre. We're fortunate in Ohio to be one of the nation's top drive-in locations, with 200 currently listed in their records. A nice online tour of functioning Northeastern Ohio drive-ins is offered on Bill Jelen's web site.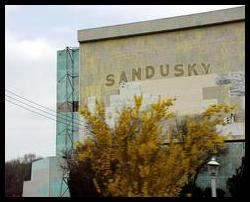 The Memphis Triple Drive-In Theatre has been a seasonally functional drive-in since 1954. The Memphis drive-in is also used for flea markets, when the weather is cooperating.
Memphis Drive-In Theatre, (216) 941-2892, 10543 Memphis Ave, Cleveland, OH 44144
The Aut-O-Rama Twin Drive-In Theatre is located in North Ridgeville. The theater was originally opened in 1965, but had an additional screen added in 1972. Like the Memphis, the Aut-O-Rama also functions as a flea market for part of the year.
Aut-O-Rama Twin Drive-In Theatre, (440) 734-1786, 33395 Lorain Road, North Ridgeville, OH 44039
The Mayfield Road Drive-In is actually located in Chardon. It is still open in-season.
Mayfield Road Drive-In, (440) 286-7173, 12091 Mayfield Rd, Chardon, OH 44024
The Midway Twin Drive-In is located near Kent State University, and is still open in-season.
Midway Twin Drive-In, (330) 296-9829, 2736 State Route 59, Ravenna, OH 44266
According to the Drive-in Theater Owners Association site, the Sandusky Drive-in is for sale with the intention that it be opened again as a drive-in.
Sandusky Drive-In Theater, 3711 Cleveland Road, Sandusky, OH 44870
---
Film Fun ...
Watch your old movies in style on your brand new Philco Predicta. It's actually a replica of the classic retro TV, but it comes cable ready.
The Rankin-Bass team of Jules Bass and Arthur Rankin, Jr. were the guys who brought you the beloved Claymation Rudolph the Red-Nosed Reindeer, Frosty the Snowman, Easter Bunny, and other holiday specials from the 1950s through the 1970s.
A newly discovered cache of photographs of Bogey, Marilyn, Stewart, Cagney, Liz, Tony Curtis, Jerry Lewis/Dean Martin, et al, taken by penniless elusive photographer Frank Worth was recently "discovered." Mr. Worth took thousands of these celebrity photos, which were unknown until after his death in 2000.
As any Clevelander knows, Ghoulardi was the television host of a '60s program called Shock Theater which is now hosted by Big Chuck and Little John, the longest-running local show. Shock Theater specializes in obscure low-budget flicks and unusual entertainment between breaks provided by the host(s) of the show.
Before the Son Of Ghoul, after Ghoulardi had become an area household name, Marty Sullivan created the character of Superhost. Superhost's show of old monster movies, original skits, and episodes of The Three Stooges was on WUAB Channel 43 every Saturday at noon. Channel 43 also featured old monster movies late every Friday and Saturday night.
The Son Of Ghoul has carried on the tradition, hosting a variety of unusual old films (complete with his unusual skits between breaks) on "the CAT," an Akron/Canton UHF station which broadcasts as WAX Channel 35 in Cleveland and in Akron as WAOH Channel 29. He's on at 8pm every Friday night.
In addition to the Son Of Ghoul, the CAT also plays a variety of hard-to-find classic films and Westerns at various times all through the day and night. They also air old television series at various times throughout the day, including Dragnet. This channel can be picked up in Cleveland with a decent antenna.
Fan sites
Orson Welles has a site dedicated to his work as an actor and director: Wellesnet.
Everybody's favorite detective, Charlie Chan, can be further investigated at charliechan.net.
The very talented Peter Lorre played the lead in a Charlie Chan-like series starring the always on-top-of-the-case Mr. Moto. Google even has a directory dedicated to the "Mr. Moto Series." Mr. Moto was conceived by author John Phillips Marquand in the 1930s. Mr. Marquand continued to write the Moto books until 1957, three years before he passed away in 1960.
---
Remember to say you saw it on moderncleveland.com!
Are you a movie buff? Did I leave any theatres or links off? Send me an email and let me know!
Most recent update: $Date: 2004/08/09 17:50:39 $