moderncleveland
home | neighborhoods | places | restaurants | shops | film | travel | music | radio | recipes | events | about | links

---
Cleveland's Best Restaurants and Bars
... a guide for discriminating diners (and drinkers)
Ask any epicurean: good restaurants are hard to come by today. They still exist, but with the changing times and landscape the very nature of the restaurant has changed considerably. In judging them, the long-respected standards of restaurant criticism still apply: excellent cooking, pleasant atmosphere, and first-class service. But in addition, another standard has become equally essential today -- and that is that the establishment must be locally or individually owned and operated, unique to to the community in which it is a part of.
Most that meet the above requirements also happen to be long-time landmarks. This is because of vast changes in the food service industry, the nature of American entrepreneurship, and our culture itself, all of which are making it difficult for these kind of local establishments to even exist. But if you look hard enough, you can still find places worth patronizing that maintain these standards.
That said, here are my favorite Cleveland area spots to drink and dine.
Fine Dining
Here are some of my favorite establishments for a night on the town, or for celebrating special occasions. These are places for fine dining and -- it needs to be said today -- this should, of course, be reflected in your dress and table manners. Don't be a cad! This means dresses or nice pants and blouse for ladies, and suit or nice shirt and trousers for the gentlemen -- don't even think of appearing in jeans, tennis shoes or t-shirts! Reservations are recommended. White Oaks in Westlake is a Cleveland institution. A former speakeasy, it is one of Cleveland's finest and most atmospheric restaurants. The outer foyer and grounds are straight from the pages of Fitzgerald. Here you will find traditional American fare at its best, prepared and served as it should.
White Oaks, Reservation Desk, (440) 835-3090, 777 Cahoon Rd, Westlake, OH 44145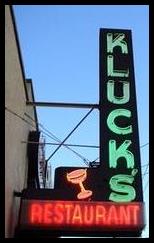 Going strong since 1939, Kluck's Restaurant is a seafood house with more authentic nautical character than most seaside restaurants in Florida! There are so many exceptional things about this historic restaurant -- the neons outside, the elaborate old décor, the vintage wood paneling and model boats, classic cocktail bar, George the long-time maitre'd and, of course, the excellent menu and food.
Kluck's has a strong customer base, so if you're new they'll know it's your first time, but your waitress will do her best to make you feel right at home. My favorite is the grouper dinner; also excellent are the Surf 'n Turf and the German Sauerbraten. Sliced brisket of beef is a specialty. You must try the homemade potato pancakes and apfel strudel. Although I've yet to investigate, according to their website late Saturday night is Greek night with Greek music, food and entertainment ... Opa opa!
Klucks Restaurant, (216) 226-9765, 1313 W 117th St, Cleveland, OH 44107 Der Braumeister on Lorain Road you'll recognize right away -- its neat and trim appearance is postcard perfect! They offer delicious German cuisine, and stock over sixty German beers in the house. The restaurant is decorated with relics from the Old World -- note the elaborate mural on the back wall. To see this, ask to be seated in the "castle room" when you make reservations. If you're not up for a heavy German meal, visit their bar and deli on premises.
Der Braumeister Restaurant & Deli, (216) 671-6220, Cleveland, OH 44102
Swingos on the Lake is located in the Carlyle Condominium high-rise along the Gold Coast of Lakewood. It's a Cleveland institution and the Sunday brunch (with live entertainment) is a favorite of many, including WRMR deejays Jim Davis and Bill Randle -- as any of their listeners know. The Four Lads are among the entertainers who have appeared at Jim Swingo's eatery.
Swingos On The Lake, (216) 221-6188, 12900 Lake Ave, Cleveland, OH 44107 MarCal's Restaurant, established in 1971, is easily spotted from Pearl Road by its impressive, Spanish Modern style dark wood beams, and murals of Cleopatra, Nero, and other Roman figures painted over white stucco walls. The Spanish Modern feel is continued inside, with large "barrel" doors, silver pewter plates, and a notable, atmospheric lounge (catch the live lounge act on weekend evenings). The menu is equally as appealing, with a wide selection of dishes to chose from, especially seafood and steaks. Featured seafood includes the Treasure Pot and Captain's Platter, and several scampi dishes cooked the same way since the restaurant first opened.
Marcals Restaurant & Lounge, (440) 885-5510, 6786 Pearl Rd, Cleveland, OH 44130
If you've never been to the legendary New York Spaghetti House, you simply must! Here's why...
Family Restaurants
If you want to sample some of the best cheeseburgers, fries and malts in town, you can do it all under one log cabin roof at The Rustic, a landmark restaurant in Rocky River. Their signature burger is the 1/2 pound Riegelsburger, served on a kaiser bun and with a side of the best french fries in town (unlike today's chains, they're carefully fried in fresh oil). If you're not in the mood for a burger or a sandwich, investigate the Rustic's daily special board for other homecooked meals on the menu.
Being a favorite after-shopping stop, this place is always packed. Even though it's on busy Center-Ridge Road, you can't miss this log-cabin style building and vintage sign!
Rustic Restaurant, (440) 333-2422, 20780 Center Ridge Rd, Cleveland, OH 44116
Sokolowski's University Inn is an inviting cafeteria-style restaurant and bar that was established in 1923, and has changed little since then. Today it is owned by the third generation of the same family. The interior is cozy with wood walls lined with nostalgic local photos, backlit cornices, wonderful green vinyl-backed chairs, and a real wood-burning fireplace in the main room that's in use during most of the winter. The homemade Polish cuisine here is hearty, delicious and healthful -- as Mike Sokolowski calls it, this is "anti-Atkins diet" fare. They even offer their own home-brewed beer. Check the daily menu on their web site. Specials include stuffed cabbage, salisbury steak, kielbasa, paprikash and sauteed pierogis like grandma used to make.
Sokolowskis University Inn, (216) 771-9236, 1201 University Rd, Cleveland, OH 44113
Sterle's Slovenian Country House has been in the Sterle family since the early 1960s, and is just as charming today as it was over forty years ago. According to a 2002 Plain Dealer article, the menu hasn't changed a bit either! This "Old Country" style restaurant offers a nice variety of Slovenian home-cooked meals. But the authenticity doesn't stop at the décor or menu -- on Saturday evenings, accordionist Fred Ziwich and his polka band, a staple at local German clubs and midwest Oktoberfests, entertains diners and those patrons who wish to take to the dance floor. Because of its large size, Sterle's is also very accomodating for parties and special celebrations.
Sterle's Slovenian Country House, (216) 881-4181, 1401 E 55th St, Cleveland, OH 44103
The Red Lantern has been in the O'Malley family since the early 1980s. The family pride is evident throughout operations of this restaurant and tavern. It is a popular spot for luncheon and early dinners. Every Friday, they have fish fries featuring very fresh Lake Erie perch and other specials such as crab cakes. Hamburgs are old-fashioned style, delicious and hearty. The Italian wedding soup is superb. The old-fashioned bar has notable décor.
Red Lantern, (216) 671-6581, 17446 Lorain Ave, Cleveland, OH 44111
Restaurants Italiano
Downtown Cleveland's legendary New York Spaghetti House is back! (You can also buy their famous brown spaghetti sauce in area supermarkets, including Heinen's.)
Mama Santa's has the best pizza in Cleveland -- there are no substitutes! I keep hoping to try their delicious-looking homemade pasta one of these days, but I can never seem to pass up that pizza. It is a charming restaurant with traditional old-time Italian décor. Because it's very affordable, it is a favorite with the University Circle students. I often go there after a trip to the Cleveland Musuem of Art.
Mama Santa Restaurant & Pizzeria, (216) 231-9567, 12305 Mayfield Rd, Cleveland, OH 44106
Master Pizza in Mayfield Heights, about fifteen minutes up Mayfield Road from Mama Santa's, is a close runner-up to Mama Santa's pizza. Run by the Lamarca family, it is a local institution and favorite! The sausage and anchovy pizza is notable; be sure to get a delicious Italian side salad with your dinner. Original china with Master Pizza logo is on display in the dining room. Both their homemade sauce and noted house salad dressing are available for purchase.
Master Pizza, (440) 449-1516, 6643 Mayfield Rd, Cleveland, OH 44124
Bucci's in Rocky River features a cozy dining area and a very nice vintage sign out front.
Buccis Pizza & Restrnt, (440) 331-5157, 19373 Hilliard Blvd, Cleveland, OH 44116
A small, cozy, corner restaurant, Pepper's completely captures the feel of those quaint little restaurants in New York's Alphabet City. It has all the elements of the old fashioned Italian restaurant: red-checkered tablecloths, wax-dripping candles, and oil paintings; the music and décor are both pure Rat Pack. The restaurant has been around for a long time and has the same pizza recipe since the 1950s, with home-made dough made fresh every day. Pasta dishes are generous. Excellent chianti. A nice stop before going out on the town -- you'll feel like you're back in New York City again!
Peppers Italian Restaurant, (216) 226-6191, 12401 Detroit Ave, Lakewood, OH 44107
Guarino's Restaurant is a Cleveland landmark. Established in 1918 by one of Little Italy's founding families, it's the oldest Italian restaurant in the city -- and for all these years, this cozy little restaurant has remained owned and operated by the same family! Like most of the traditional Sicilian items on the menu, the lasagne is made using the same recipe Mama Guarino used decades ago. A nice variety of desserts, including a generous serving of authentic spumoni, and a light, brisk tiramisu. It's no wonder Frank Sinatra was a regular when he was in town. The dining area is intimate; reservations are a must.
Guarinos Restaurant, (216) 231-3100, 12309 Mayfield Rd, Cleveland, OH 44106
At the site of the former Meilander Hardware store on Madison Avenue in Lakewood, Angelo's kept the fine vintage sign out front and fitted it with new neons for the new establishment. They offer a wide variety of unusual "specialty" pizzas; the deep-dish crust is the one to have.
Angelos Pizza, (216) 221-0440, 14019 Madison Ave, Lakewood, OH 44107
Restaurants Mexicano
Luchita's is a longtime favorite of many Clevelanders, from both East side and West. They have the most authentic Mexican menu in town! They serve Mexico's national dish, a tender breast of chicken with mole (pronounced "moe-lay" and is from the Aztec meaning "sauce"), which is a woody-tasting sauce made of nuts, fruit, chocolate, spices and grilled pepper that takes two days to prepare. Other items of interest include bison and white fish.
They have several locations; W117th is the original, founded in 1981 by Maria Luz "Luchita" Galindo, and many also say it's the best. The kids will like the selection of Mexican sodas.
Luchitas Mexican Restaurant & Liquor, (216) 252-1169, 3456 W 117th St, Cleveland, OH 44111
Luchitas On The Square, (216) 561-8537, 13112 Shaker Sq, Cleveland, OH 44120
Luchitas Alta Comida Mexicana, (216) 561-8537, Cleveland, OH 44102
Nuevo Acapulco recently painted over their beautiful tropical mural on the front, but they still offer some of the best Mexican food in the area, for a reasonable price. My favorite is their homemade sangria; they also stock a good selection of Mexican beer including the exceptional Pacifico and Carta Blanca.
Nuevo Acapulco Mexican Restaurant, (440) 734-3100, 24409 Lorain Rd, North Olmsted, OH 44070
Mi Pueblo is a cafeteria-style "taqueria" on Lorain Avenue in Cleveland, between the Lorain Antique District and West Park. It's right around the corner from the original Luchita's, above.
Mi Pueblo Taqueria, (216) 671-6661, 12207 Lorain Ave, Cleveland, OH 44111
Diners
Diners are prefabricated restaurants delivered to their location and designed to allow the owner to operate an independent restaurant service using the most efficient, clean and modern technology available. For more on this American innovation, visit the American Diner Museum and subscribe to diner connoisseur Randy Garbin's By The Way magazine.
Diners have a positive future in Ohio. In part because of its thriving diner scene, Roadside magazine predicted that Cleveland would be the next Seattle. Steve Harwin's Diversified Diners are known as the world's best diner restoration people and they're based here in Cleveland. Recent projects include a double-diner in Cleveland Heights and they keep a nice online directory of Ohio diners.
Other diner directories and sites include local diners as well. Paul Coyne also has a diner directory with an Ohio page, and you'll find a good half dozen listed on the I Love Diners site. Diner City covers all of North America with diner listings, photos and reviews.
Aris Family Restaurant is a great little diner in North Olmsted with a long, L-shaped counter. Breakfasts are reasonably priced and hearty, too.
Aris Family Restrnt, (440) 777-9360, 27195 Lorain Rd, North Olmsted, OH 44070
Charlie's Restaurant, also known as Charlie's Doghouse Diner or Charlie's Diner, began many years ago as a hotdog stand that looked like a big red dog house. Today its new owners have kept this historic diner wonderfully preserved, and still offer three different sizes of hotdogs -- as well as a full breakfast (they're also known for their malted waffles and a great cup of fresh ground coffee) and lunch menu. Charlie's isn't very large (counter service only -- no individual tables), but because it is so intimate, you won't leave without a few friendly words from the owner, who incidentally is also the chef. If you're ordering "to go," you can fax in your order ahead of time to (216) 661-7500.
Charlies Restaurant, (216) 661-4873, 2102 Brookpark Rd, Cleveland, OH 44134
Easy to miss on busy Lorain Road in Fairview Park is Gina's Place, a small cozy diner that only serves breakfast and lunch, closing shortly after the lunchtime rush. Like Charlie's Doghouse (above), it's another of those diners that you won't leave without getting a friendly introduction from the owner.
Ginas Place, (440) 331-6082, 21930 Lorain Rd, Cleveland, OH 44126
Ruthie & Moe's, located downtown, is probably Cleveland's most popular diner. Please note their hours are strictly working hours -- 7am to 3pm, Monday through Friday. Call for daily menu specials and to order by phone. Ruthie's was restored by Diversified Diners and is included in the Rock and Roll Diner Cookbook.
Ruthie & Moes Diner, (216) 881-6637, 4002 Prospect Ave, Cleveland, OH 44103-4302
John's Diner on Detroit Road in Lakewood is just about the only real pre-fab diner on the West Side of Cleveland. If you're not from town, be sure to sign the out-of-town visitors list, which is a placemat hung on the wall by the counter. John, who has been running this diner for decades, comes in every day and can often be seen at the counter during the morning breakfast rush.
Johns Diner, (216) 228-0871, 18260 Detroit Ave, Cleveland, OH 44107
Old-fashioned Downtown Cleveland Delis
Not to be forgotten is the genre of the downtown deli that serves up warm meals to Cleveland businessmen and weekday downtown visitors. These independent delis often welcome their patrons in with nice vintage signs and inviting, old-fashioned counters. The following list of downtown Cleveland delis specialize in and are known throughout town for their delicious (and huge!) corned beef sandwiches, wrapped in paper and served with a pickle. They also offer a variety of lunchtime meals. As is typical of the downtown deli, you'll want to get there sometime before 2 o'clock, since most of them close as soon as the lunchtime rush is over. Also worth noting is that these delis are only open during the business week.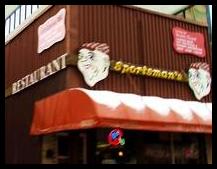 The Sportsman's Restaurant, right near the Justice Center downtown, is one of my favorite spots for corned beef sandwiches. There's a counter area if you're eating alone and tables and a back dining area if you're there with friends or coworkers. It's right by the Justice Center. Just look for the friendly vintage Sportsmans sign out front.
Sportsman Restaurant, (216) 861-5168, 101 Saint Clair Ave NE, Cleveland, OH 44114

The Rathskeller is another top favorite of mine and has been around for over 100 years! What first turned me on to this fabulous deli is the vintage sign and unique, beveled exterior. While there, make sure you stop in to the incredibly atmospheric lounge!
The Rathskeller Restaurant & Tavern, (216) 621-1552, 1144 Prospect Ave E, Cleveland, OH 44115
Slyman's is a well-known deli that I've still yet to check out myself, but everyone who's been there insists that this is the best place in Cleveland for a huge corned beef sandwich.
Slyman's Restaurant, (216) 621-3760, 3106 Saint Clair Ave NE, Cleveland, OH 44114
Delicatessens are represented on the East and West Sides, too. Everybody on the East Side knows that the deli is Corky and Lenny's in Woodmere. Having a hard time finding homemade creamed herring? This is the place for you! You'll want to sample their bagels with lox (smoked salmon) and all of their other deli-cious offerings.
Corky and Lenny's, (216) 464-3838, 27091 Chagrin Blvd, Village Sq Shopping Ctr, Woodmere, OH 44122
The West Side's answer to Cleveland's downtown delis is Goodman's Sandwich Inn at the corner of Pearl and Brookpark. When it comes to corned beef, Saul and Danny Goodman don't skimp out. Their large, juicy, thickly-sliced corned beef sandwiches are so big that I can't even eat more than a half! Goodman's is a popular place and is great for carry-out; every time I've been there, there's been a line. If you'd rather eat there, you'll appreciate their '50s diner style counter. Also noteworthy are the potato and macaroni salads.
Goodmans Sandwich Inn, (216) 398-6885, 5164 Pearl Rd, Cleveland, OH 44129
Tiki, Polynesian and Chinese
Cleveland was once home to many noted tiki bars and Polynesian restaurants -- at one time including two world-class favorites, Chung's Restaurant in Fairview Park and the Cleveland Kon-Tiki, the legendary Mid-Century Tiki paradise downtown at the former Sheraton at Public Square. And not far away in Columbus was, of course, the world-renowned Kahiki Polynesian Supper Club, which was noted as the best Tiki restaurant on the globe. While now only collectibles from these places exist in antique shops and on eBay, you can still get a taste of authentic tiki culture in Cleveland, if you're willing to hunt for it. It looks I've fared a little better in the search than some other Cleveland tiki hunters ... but we recently lost the best in town, Bay Village's Bamboo House (if you know the story, please drop me a line).
Great atmosphere is to be found in the dining room and lounge at Asian Wok in Westlake. They have a large menu of Cantonese and Mandarin specialties, and an American menu for the less adventurous. Pork specialities include the rare Jah-Jan Mein, Barbecue and Twice-Cooked Pork. They also have crispy duck, sweet scallops, and lobster -- you'll never get bored with this variety! The same is true for their drinks, with many exotic cocktails and aperitifs, including all the standard tiki fare like Blue Hawaii, Mai Tai, and Zombie plus imported ginger wine, served on the rocks. Their premiere cocktail and my favorite there is the Lover's Volcano, a flaming drink of molten lava for two! It doesn't taste alcoholic but, like the Zombie, having more than one is not recommended!
Asian Wok Chinese Restaurant, (440) 871-0880, 24389 Detroit Rd, Westlake, OH 44145
Dragon Gate is an old-fashioned Cantonese restaurant and has been a Parma institution for decades. Come enjoy the sizzling Hawaiian dishes, pupus served in native style with flaming hibachi, tiki-patterned menus, exotic drinks and décor.
You're tipped off that this is a great place as soon as you walk in and see the fabulous '60s cigarette machine in the lobby. Also of interest is the golf driving range behind it with the neat super sized golfball and their own retro vending machines that dispense beer!
Dragon Gate Chinese Restaurant, (216) 661-0800, 8701 Brookpark Rd, Parma, OH 44129
Lit outside in giant pink neon, the Peking Restaurant in Lakewood has the standard, large take-out Chinese menu (you can also eat in or have it delivered). They serve what I call "New York" style Chinese; what I recommend here is the General Tso's chicken combination dinner, which comes with their delicious egg rolls, crisp, large, and home-made. The origin of General Tso's Chicken is unclear, but most agree that it is an American dish, and was invented in New York around 1972, possibly because take-out sales were declining as Chinese food was no longer so exotic. The Washington Post investigated the history of the real General Tso and his namesake dish in 2002.
Peking Restaurant, (216) 226-7800, 18198 Sloane Ave, Lakewood, OH 44107
You'll find some of my Cleveland Tiki picks, plus more information on other Ohio Tiki havens, in the new illustrated book, Tiki Road Trip: A Guide to Tiki Culture in North America by James Teitlebaum (Santa Monica Press, 2003).
Doughnut Shops
For a quick, fun breakfast, nothing beats stopping at an old-fashioned doughnut shop counter for a fresh doughnut and hot cup of coffee.
Spudnuts derives its name from the spuds added to the dough recipe. For both cake and the fluffier, yeast style doughnuts, this is a popular west side place. The cake-style sour cream doughnuts are notable ... and heavy!
Spudnuts Donut Shop, (440) 234-4249, 650 Prospect Rd, Berea, OH 44017
If you've ever walked Mayfield Road at the bottom of Murray Hill in Little Italy, chances are good that you've been tempted by the smell of doughnuts from Presti's bakery. It's been a favorite of Little Italy for many years.
Presti's, (216) 421-3060, 12101 Mayfield Rd, Cleveland, OH 44106 A further drive from Cleveland (about 90 minutes or so) will take you to Geneva-on-the-Lake's Madsen's doughnut shop. The shop dates back to 1938 and has been in the same family since it first opened. Chances are you'll have a little wait, but it's worth it -- Madsen's has the best cream-filled doughnuts I've ever tasted!
Madsen Donuts, (440) 466-5884, 5426 Lake Rd E, Geneva, OH 44041
Found on both the east and west sides of Cleveland, Amy Joy Donuts is a family-owned Northeast Ohio favorite that's been serving up tasty doughnuts for the past three decades. It was a popular Sunday morning treat when I was a child. You can buy your own Amy Joy mug online. Their official site is amyjoydonuts.com.
Amy Joy Donuts, (440) 442-9733, 5076 Mayfield Rd, Cleveland, OH 44124
Amy Joy Donuts, (216) 221-5057, 12901 Detroit Ave, Cleveland, OH 44107
Bars, taverns and lounges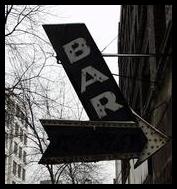 A good cocktail lounge is more than just a place to get a drink -- it must be the kind of place you enjoy spending time in. You should never have to feel that you're "too dressed up" for a lounge. It should be clean, carefully designed with quality furnishings and tasteful décor, have an atmosphere that should be amenable to developing camaraderie among fellow patrons, have knowledgeable bartenders, and -- if there is to be music or television -- it is done right and with consideration, not overwhelming and in your face. Live lounge music is always a plus!
Today, all too often bars fall short of this standard. They're dingy, dirty, lack flair and subtlety, and have bartenders that look at you funny when you ask for a highball. Blaring television sets are supposed to make up for lack of atmosphere. And perhaps most offensive of all is the terrible "music" that is always played. A rule of thumb seems to be that the louder the volume level, the worse the music is.
So although good lounges are getting harder to find -- not only in town but throughout America as well -- there's still a few good ones out there. Here are some operating today in Cleveland that I enjoy and recommend.
Restaurants sometimes have excellent lounges; Cleveland notables include the Four Seasons Lounge at White Oaks, the lounges of MarCal's, Der Braumeister, Kluck's Restaurant, Asian Wok, Palmer's, and the Red Lantern (all listed above). Downtown, the Rathskeller Deli has a notable lounge which is a also good place to sit and have a meal while in the city. The lounge at MarCal's Restaurant is exceptional, in very stylish Spanish Modern surroundings. Note the wonderful lighting, fixtures, and the curved bar counter -- wow! On weekends, catch Gary Ryan's live lounge act. You can even sit around his piano bar, but get there early -- seating goes quick!
Marcals Restaurant & Lounge, (440) 885-5510, 6786 Pearl Rd, Cleveland, OH 44130
It has been said that the Germans are very strict about being clean and orderly, and the bar at Der Braumeister exemplifies this high standard. It is how a good bar should be: as comfortable as your living room, and so spotless that even in the corners it would pass the white glove test. The selection of German beer is outstanding: there are well over fifty different brews to choose from!
Der Braumeister Restaurant & Deli, (216) 671-6220, Cleveland, OH 44102
A historic remnant of old Lakewood, the Mars Bar is nicely situated on Madison Avenue at Mars near a lot of shopping. If you're sitting at the bar you can watch the passers-by out the windows in front of you.
The Mars Bar, (216) 221-0116, 15314 Madison Ave, Cleveland, OH 44107
The West End has a friendly atmosphere and a full dinner menu. Once, some of the regulars at the bar even coached me, from their bar stools, on my attempt at parallel parking outside the open doors!
West End Tavern, (216) 521-7684, 18514 Detroit Ave, Lakewood, OH 44107
The Five O'Clock Lounge near the Cleveland - Lakewood border is easy to spot with its fabulous 50s neons.
Five O'Clock Lounge, (216) 521-4906, 11904 Detroit Ave, Lakewood, OH 44107
Gunselmans is reminiscent of the old 1930s bars in NYC, with heavy wood bar counter, nice metal chairs on the floor, and cozy booths against the walls. This bar also has a kitchen. On the back wall of the building they still have a painted sign on the brick exterior.
Gunselmans Park Tavern, (440) 331-5719, 21490 Lorain Rd, Cleveland, OH 44126
The Tick Tock Tavern has been noted as being one of the best bars in town; famous for barbecue platters. Note the excellent exterior facade with neons and clock.
Tick Tock Tavern, (216) 631-6111, 11526 Clifton Blvd, Cleveland, OH 44102
The Venice Cafe in Kent is truly a gem of a bar. Going on over 60 years of uninterrupted family service, it has a comfortable, retro feel and a beautiful old mural of Venice's Ponte de Sospiri (Bridge of Sighs). Other elements that make it worth noting are the wonderful old wooden phone booth, cheap happy hour prices and a kitchen that serves up $2 hamburgs, as well as -- later in the night -- homemade pizza by the slice. Occasional live entertainment; pool tables are popular.
Venice Restaurant, (330) 673-9023, 163 Franklin Ave, Kent, OH 44240
---
Remember to say you saw it on moderncleveland.com!
Where else is good? Tell me about it...
Most recent update: $Date: 2006/05/15 15:40:30 $