moderncleveland
home | neighborhoods | places | restaurants | shops | film | travel | music | radio | recipes | events | about | links

---
The Best Local Shops in Cleveland
Cleveland's Golden Age of Downtown Shopping is over. Transnational corporations dominate the land. But there still are many great places to shop in town, run by locals. Here's where to find them!
Vintage and Antiques
Lorain Road on the West side of Cleveland is the city's antique mecca. These are my favorite antique shops, both on and off Lorain.

Flower Child is the largest vintage shop in town. It's huge and it just keeps growing, having recently taken over the storefront next door. Furniture is a specialty.

It isn't just late Sixties hippie nostalgia as the name might have you think -- like Suite Lorain, they have a giant selection of Deco through Mid-Century to Mod antiques, furniture, collectibles, kitsch and clothing. Notable stock of barware. They also have special tiki, kitchenware, and fabric sections and season display showcases. First-time visitors should plan to set aside at least a few hours to browse the large inventory.
Flower Child, (216) 939-9933, 11508 Clifton Blvd, Cleveland, OH 44102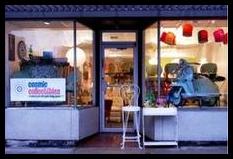 Cosmic Collectibles, formerly of Madison Avenue, is back -- relocated to a charming new home on Detroit Avenue. The storefront on this bustling section of Detroit takes you back to fifties Lakewood with its wonderfully decorated vintage window display. This modern boutique continues to offer quality space age and shabby chic items from just the right time period -- early 40s through early 60s. You'll find reasonably priced mid-century furniture in impressive condition, modern lamps, bars and barware, ephemera and other items from a different time.
Cosmic Collectibles, (216) 221-1085, 14532 Detroit Ave, Lakewood, OH 44017
Suite Lorain is "the vintage department store," with an 8,000 square foot showroom that will keep you busy shopping for hours. At one time, this "Deco to 60s" shop was the only game in town, back when "vintage" and "retro" shopping was unheard of. It's still operating in the same urban location today.
Suite Lorain Antiques & Interiors, (216) 281-1959, 7105 Lorain Ave, Cleveland, OH 44102
Just a short drive south from Cleveland, the Medina Antique Mall houses 52,000 square feet of many different items, from over 500 dealers -- furniture, jewelery, books, and glassware, to paintings, toys, souvenirs and cocktail shakers. There's even a booth that has ancient fossils, wooly mammoth hairs and enormous megalodon teeth! Just about the only thing you can't find here is clothing, because the focus is not so much on "vintage" as it is "antiques": WWII and earlier is what's represented here. Be prepared to spend several hours shopping; there's a lot to see!
The Medina Antique Mall, (330) 722-0017, 2797 Medina Rd, Medina, OH 44256
Big Fun is a vintage toy shop on Coventry -- it's the place to go when you want to find and buy vintage games and amusements, a lot of it being New Old Stock from the 1950s through the '80s, still smelling "factory fresh." Old library card-catalog drawers are filled with retro stickers, trinkets, and assorted oddities from childhoods past.
Big Fun, (216) 371-4386, 1827 Coventry Rd, Cleveland, OH 44118
Forget-me-Nots on Madison is a small vintage shop with a nice selection of hats, clothing and jewelry. During the holidays they have good Christmas items.
Forget-Me-Nots, (216) 228-9595, 15232 Madison Ave, Cleveland, OH 44107
Clothing and Accessories
One of the very best vintage clothing stores in the nation is right here in town! Now celebrating 25 years in business, The Cleveland Shop is known for their costume rentals as much as their vintage wear for sale, and boasts a national clientele that includes collectors, Hollywood clothing stylists and celebrities. A quality selection for both men and women, clean, well organized, and at reasonable prices makes this the very best shop in town for fine vintage clothing -- no one else comes close! If you can't stop by, take the virtual tour.
The Cleveland Shop, (216) 228-9725, 11606 Detroit Ave, Cleveland, OH 44102

Chelsea's is a short walk across the street from The Cleveland Shop and has rows and rows of vintage clothing and accessories, especially formal wear. They have funny wigs, vintage clothing and other costume supplies. All clothing is nicely categorized by era, type, and color.
Chelseas Costumes, (216) 226-9147, 1412 W 116th St, Cleveland, OH 44102

Szabo Shoes offers the same high-quality service as they have for decades. They've long held a reputation for having shoes you can't find anywhere else; also your local source for Converse sneakers.
Szabo Shoes, (440) 331-5600, 20900 Center Ridge Rd, Cleveland, OH 44116

Ford's Clothier have been in Rocky River for over 85 years (back when it was known as Cleveland's "fashionable suburb"). They specialize in custom clothing for the man who is difficult to fit.
Ford's Clothier, (440) 333-2355, 19821 Detroit Rd, Rocky River, OH 44116

Flower Child and Suite Lorain (both mentioned above) also have a notable selection of vintage clothing.
Thrift Shops
The Salvation Army operates a number of stores throughout the Cleveland area. My favorite is the large store on Pearl Road in Strongsville; they seem to get a lot of new stock in.
The Salvation Army, (440) 239-1350, 8623 Pearl Rd, Cleveland, OH 44136
Many Goodwill shops are also located throughout the area. My favorite is on Lorain in North Olmsted near Royal Garden Records and up the street from Nuevo Acapulco.
Goodwill, (440) 777-4422, 23999 Lorain Rd, North Olmsted, OH 44070
Appliances, Electronics, and Hi-Fi
West End Appliance can be spotted easily by its wonderful vintage neons and window displays and is conventiently located at Kamm's Corner in West Park. Carries all major models.
West End Appliance, (216) 251-2332, 17119 Lorain Ave, Cleveland, OH 44111
Ohio Camera on Madison Road in Lakewood is a repair shop that sells vintage camera, movie and stereo equipment.
Ohio Camera Repair & Sales Inc, (216) 221-5100, 15220 Madison Ave, Cleveland, OH 44107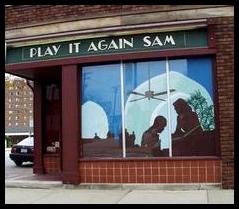 Play It Again Sam is the place to go for buying or repairing stylish secondhand, vintage stereo equipment. They have that needle, stylus or cartridge you've been looking for to get your parents' record player going again -- and they'll install it for you. Browse their three showrooms of equipment from the golden age of hi-fi audio; their stock ranges from affordable entry-level systems to rarities and odd, obscure pieces, all the way to the top of the line McIntosh tube systems, precision turntables and flat "standing panel" speakers.
They repair record players and hi-fi equipment of all kinds; Jason is second to none for his audio repair service. They also sell records, related accessories, and offer a vinyl cleaning service, where you pay to use their record cleaning unit; you get store credit for a certain number of cleanings, which you don't have to use all at once, but can come in with as many records as convenient for you.
Play It Again Sam, (216) 228-7330, 12611 Madison Ave, Lakewood, OH 44107
Play Things Of Past offers vintage radios, tubes, and related parts. They have a strong mail order operation for your vintage radio, television and telephony needs.
Play Things Of Past, (216) 251-3714, 3568 W 105th St, Cleveland, OH 44111
Strictly on the Web and mail order, Deco Dan sells and repairs vintage appliances: blendors, mixers, Sunbeam, Waring, Osterizer, etc.! If yours needs rehab or fixin', Dan is the man!
For those interested in Vintage Telephony, there are two shops who have Web sites: Oldphoneman.com specializes in old telephones and parts, and PHONECO offers old phones, old phone parts and repair and restoration services. We were pleased with our recent purchase of a tiny, hard-to-find part to repair my grandmother's early Mid-Century rotary phone. And compliments of the Telephone EXchange Project, you can find and use the exchange name for your phone number!
Record Shops
Royal Garden Records has an enormous collection of jazz, blues and rare recordings housed in a fabulous mid-century storefront.
Royal Garden Records, (440) 779-4450, 23812 Lorain Rd, North Olmsted, OH 44070
Bent Crayon is the place to go for brand new electronic music. John Cellura is known outside of town as much as he's known locally for his large, fresh selection.
Bent Crayon, (216) 221-9200, 11600 Detroit Ave, Cleveland, OH 44102
Tommy Edwards Records is named for the disk jockey legend of the 1950s who, among other things, broke the song "Volare" -- one of my favorite Dean Martin tunes. Since his passing, the family now runs the record shop.
Tommy Edwards Records, (440) 582-8863, 12402 Padua Dr E, North Royalton, OH 44133
Food and Markets
The West Side Market has been an institution since 1912. It's housed in a Cleveland architectural landmark and has just about everything from all over town -- bakeries, butchers, freshly caught seafood, delis, a Middle Eastern shop and a wide assortment of produce.
West Side Market, corner of West 25th and Lorain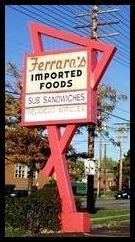 Ferrara's Imported Foods is easily spotted by the sharp angles of its historic modern-era sign (pictured left). This friendly Italian grocer's shelves are always stocked with all types of Italian goodies, a nice variety of vino, and specialties including Greek imports (the Greek coffee is excellent!). Ferrara's also has a gift shop with a wide variety of Italian and religious items. If you're hungry and in a hurry, try their homemade pizza slices available right at the register.
Ferrara's Imported Foods, (440) 442-3700, 5750 Mayfield Rd, Cleveland, OH 44124
Alesci's is the place for delicious, pre(home)made Italian meals. They stock a wide variety of sauces, pastas, meatballs and other goodies, ready for warming and serving. If you're looking for a quick lunch or something to bring along in your picnic basket, check out their sandwich counter and the full service deli (packed with a wide selection of Italian meats). Alecsi's also gets various imported anchovies from time to time, like the Papa Falcone brand.
Alesci's (216) 382-5100, 4333 Mayfield Rd, Cleveland, OH 44121
With over 85 years of pride and service under their belt, Gallucci's has a rich history in Cleveland. And, thanks to Marc Gallucci (the fourth generation of the family to run the business), their store is now also online! Not only does Gallucci's offer their own brand of olive oil and special Italian anchovies, but they also import cheeses and other food items from Italy every other week.
Gallucci Gust Co, (216) 881-0045, 6610 Euclid Ave, Cleveland, OH 44103
Shaft's Grocery Store is a Berea institution. Current owner Loretta Juergens' grandfather (Joe Shaft) built the rear section of the store in 1901. It hasn't changed much over the past century -- which is actually a good thing. Shaft's still has the same comfortable old-time store feeling and the same friendly family always ready to assist you and chat with you about the weather, what's going on around the city and just about anything you can think of. And you don't have the long lines of those other larger, less personal grocers, which is a definite plus!
Shafts Grocery, (440) 234-6825, 271 Fowles Rd, Berea, OH 44017 Jasmine Bakery If you've been to Aladdin's or any other Arab restaurants in town, chances are you've had pita from this family-run bakery. Their pita, baked fresh daily, is the best I've ever had! Also available at their Kamm's Corners shop is gyro meat, their homemade fataya (meat, spinach, and spinach with feta pies), various pasteries and canned goods (my favorite -- the pickled eggplant), homemade grape leaves, tabouli and hummus, a wide variety of imported olives, and other Arab and Mediterranean specialties. Go here when you want to pick up something tasty for dinner and don't feel like cooking. I'm a regular at Jasmine's!
Jasmine's Bakery & Store, (216) 251-3838, 16700 Lorain Ave, Cleveland, OH 44111
Assad Bakery is one of the many shops in "Little Arabia," the strip of Lorain Avenue around W130th, and is one of my favorite Arab bakeries in town, for both their selection and friendly service. I like their anisette cookies and their freshly-made spinach pies. They have a large selection of patries and desserts. From this online review, it looks like I'm not the only one who likes this place.
Assad Bakery, (216) 251-5777, 12719 Lorain Ave, Cleveland, OH 44111
Hansa Import Haus is a German import market, conveniently located in Ohio City right by the West Side Market. They also carry many Swiss, Austrian and other fine European goods. The variety is impressive: candy and chocolates, wursts, cheeses, canned goods, wines, beers, housewares, health and beauty items, greeting cards and magazines. Hansa's got it all -- even an in-store travel agency!
Hansa Import House Inc, (216) 281-3177, 2701 Lorain Ave, Cleveland, OH 44113
Old Country Sausage has a fine selection of homemade German sausages, bratwursts and meats, all of it ``made in the back and sold in the front.'' They also carry imported cookies and other treats.
Old Country Sausage Kitchen Inc, (216) 662-5988, 15711 Libby Rd, Maple Heights, OH 44137
The Sausage Shoppe first opened its Memphis Avenue doors on March 3, 1938 under the name of Kirchberger Sausage and has been selling some of the best brats in town ever since. Before you visit, have a look at their "Bratmeter," a description of their brats ranging from super hot "Old Brooklyn" style to mild white brats. And ... don't forget to check out their specials.
The Sausage Shoppe, (216) 351-5213, 4501 Memphis Avenue, Cleveland, OH 44144
The Old Time Candy Co. is a Web-based mail-order operation run out of the southwestern suburb of Berea, is a great source for candies and sweets of the past, including the not-so-PC candy cigarettes in their very realistic looking "cigarette" boxes.
The Flavor of Ohio in North Olmsted offers all made-in-Ohio goods: wines, souvenirs, books, and small food and craft items that are great for gift baskets.
The Flavor Of Ohio, (800) 755-OHIO, 28879 Lorain Road, North Olmsted, OH 44070
You can buy small food products mail order from Crooked Creek Farm, which is a small family farm west of Cleveland. These make wonderful gifts and are great for gift baskets.
Beverage Stores
What counts in a good beverage store is a willingness to help (and even order something, if they don't have it), pleasant and comfortable surroundings, a good stock of items and amenities (barware, lemons and limes, reference books, tobacco and card-game paraphernalia), and sometimes, if you're lucky, a back-stock where those older, hard-to-find vintages can be discovered. Since these shops are owned by local families (some for generations), you're supporting the local economy in a way that you never could by patronizing a franchise. And the shelves are stocked with local brews and vintages along with other domestic and imported brands.

Drive-through beverage stores are pretty popular in Ohio, much more so than the rest of the country (but there is one in Niagara Falls). In these, you don't even have to get out of your auto, but you just drive on through into the covered building where an attendant will take your order, and either hand it to you or pack it in the trunk. There's a few in Kent (although all that's left of the House of Spirits on Cherry Street may be just the old sign), many in the Akron and Canton area, and several on both the East and West side of Cleveland, including All American on Memphis.

If you're in town visiting, these stores are the perfect place to explore the multitude of our local award-winning beers and wines. If you're a resident and you aren't familiar with Great Lakes Brewery, Crooked River, Lonz, Heineman's and Paramount Distillers, then head on out to any of the stores below and check out some of Northeastern Ohio's many excellent offerings.

Party Beverage is my favorite drive-thru beverage store. As you drive up, you're greeted by the life-sized "Beer Wolf." You can special order very good spiral-sliced hams for the holidays and they also have the somewhat hard to find Charles Chips (in the bags, not the cans). Propane, firewood, and all the standard beverage-store items.
Party Beverage, (440) 234-9064, 480 W. Bagley Rd, Berea, OH 44017

Twice Good Wines, also in Berea on Bagley, carry a large variety of wines, beers (Cleveland brews, other domestics and imported), and spirits. It's my favorite place to shop for those spirits distilled right here in Cleveland at the Paramount Distillery! (Their Rock and Rye is a traditional favorite.) Twice Good is also an excellent source for home brewing needs, with supplies for home brewed wines, beers, even ingredients to make your own root beer! The owner and friendly staff are also well-versed in brewing and are always eager to help with your beer and wine-making questions.
Twice Good Wines, (440) 234-9463, 360 W Bagley Rd, Berea, OH 44017

Johnny's Beverage. Remember Miss Ginger, the face on the old bottles of Cotton Club, when it still was a Cleveland bottling company? (This was a Cleveland staple for decades, but when the British bought it in 2001, the first thing they did was get rid of all the Cleveland-designed labels, replacing them with sufficiently generic, globalist style images). Well, at his shop Johnny still has a few of the original glass one liter bottles on display. Owned and operated by Johnny for many, many years, this roadside beverage store on the premises of a Victorian home offers a fine selection of domestic and import beers, wines and soda.
Johnny's Beverage, (440) 892-0540, 25984 Detroit Rd, Westlake, OH 44145

Minotti's Wine & Liquor was founded in 1959 by John L. Minotti and now has 3 different family-run beverage stores -- Fairview Park, Rocky River and Westlake. The location I'm most familiar with is the Fairview Park store on Lorain Rd. They have a nice stock of wine and those dusty forgotten corners that I love to explore. I found a wonderful old bottle of Greek wine there on our last trip.
Minotti's Wine & Liquor, (440) 333-0057, 20550 Lorain Rd, Fairview Park, OH 44126
Minotti's Wine & Liquor, (440) 333-4095, 19831 Detroit Rd, Rocky River, OH 44116
Minotti's Wine & Liquor, (440) 892-2110, 30664 Detroit Rd, Westlake, OH 44145

S&M Deli in Berea, aka "Mary's place," is a small convenient store (both walk-in and drive-thru) with homemade spinach and meat pies, calzones, gyros and sandwiches. Mary sells a number of treats including slushie cones, ice cream cones and pies, malts, and good creamy milkshakes ("not the phoney baloney shakes that you get at fast food places!" as she would say).
S & M Deli, (440) 243-3010, 466 Prospect St, Berea, OH 44017

Dover Beer & Wine Makers' Supplies carry a wide selection of home brewing equipment -- micro-brew kits, whole grains, hops, malts, yeasts, thermometers, carboys, fermenters and everything else you'll need for home-brewing. The staff is friendly, helpful and knowledgeable.
J W Dover Beer & Wine Makers Supplies - (440) 871-0700 - 24945 Detroit Rd, Westlake, OH 44145
---
Remember to say you saw it on moderncleveland.com!
Have I left anything out? Email me with anything I may have missed...
Most recent update: $Date: 2006/05/14 20:18:52 $