moderncleveland
home | neighborhoods | places | restaurants | shops | film | travel | music | radio | recipes | events | about | links

---
Gone, but not forgotten ...
These are former Modern Cleveland listings of special places and things that no longer exist, for a variety of reasons. For some, their time had come; some had no family to carry them on; others were American fatalities of globalism -- but whatever the reason, they are gone, and we leave this as a modest tribute to their memory. These lost things and places are responsible for special memories for many Clevelanders and visitors to the city.



---
The atmospheric Bamboo House still has its original 1960s décor -- very Tiki! Theirs is some of my favorite Chinese in town. Notable is their gingery, homemade sweet-sour sauce, and crispy homemade egg rolls. You will appreciate the Roman patterns on their china, their stained-glass lighting and wrought ironwork. My favorite dishes are the honey chicken and the pork Egg Fu Yung. For your less adventurous friends, an American menu is available, with cheeseburgers and the like. "Suffering bastards" are served in authentic vintage tiki mugs while other tropical drinks are served in panda mugs!
Bamboo House Chinese Restaurant, (440) 871-1966, 640 Dover Center Rd, Bay Village, OH 44140
---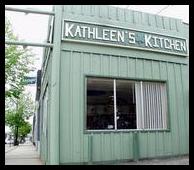 Kathleen's Kitchen is a West Park legend. While not a prefabricated diner, it's an old-time breakfast counter, right up along the main strip of West Park's Kamm's Corner. The business is now run by Kathleen's daughter. Friendly Irish atmosphere emphasized by loyal regulars makes a trip here like eating with family. If you're going on a weekend, get there early because the limited seating fills up quick!
Kathleens Kitchen, (216) 941-4357, 16804 Lorain Ave, Cleveland, OH 44111
---
Marty's Beverage is located in Parma Heights along the strip of Pearl at W130th where space age modern once thrived in Cleveland. Today it's still easy to spot by the concrete walls slitted with holes facing Pearl Road.
Martys Beverage & Party Center, (440) 886-6464, 6719 Pearl Rd, Parma Heights, OH 44130
---
Featuring the music you know and love from the old WRMR AM 850, the "Your Music" afternoon program on 1300 WERE was from 1pm to 3pm every Monday through Friday and ran for about a year and a half after WCLV sold their 1420 AM station. The program's last broadcast was on Friday, January 27, 2006. It was hosted by the legendary DJs that make the music great: "Disk Jokey" Jim Davis and "Tall" Ted Hallaman, as well as Jim Szymanski and "Captain" Carl Reese.
---
Danny Boy Farm Market is one of northeast Ohio's best sources of fresh produce, exotic foods, imports and fresh meats. They stock New York City's Boar's Head meats and sausage, and they have a great butcher, deli, and bakery all with friendly and knowledgeable staff. It has been a family-run operation for over half a century. You can sign up for a free monthly newsletter which has lots of useful info about seasonal crops.
Danny Boy Farm Market, (440) 777-2338, 24519 Lorain Rd, North Olmsted, OH 44070
---
Yummy Kitchen is a popular family-run Chinese takeout restaurant just across the road from Great Northern Mall. The Chinese food served here is a sweet Peking or Hong Kong style; everything from the General Tso's to the Orange Peel Shrimp has a sweet and tangy flavor. I recommend their sweet and sour chicken combination plate and the curry chicken. Their pan-fried egg noodle dishes are also good. Homemade sauces (hot oil, sweet and sour, and mustard) are available for purchase. Most folks order meals "to go" (myself included), but you can dine in if you'd like. They also have drive-through pick-up service.
We first heard about Yummy Kitchen from Carl Reese on his "House Party" radio show several years ago, and we (like the Reeses) have been regular customers ever since! Sara and the crew can be seen working hard 7 days a week, almost every day of the year.
Yummy Kitchen, (440) 779-2828, 26625 Brook Park Ext, North Olmsted, OH 44070
---
With a traditional steakhouse interior and old fashioned serve-yourself salad bar, Palmers of Strongsville is a fine place for a steak and a cocktail. The interior décor is a splendid example of the Spanish Modern style. The bar serves up an excellent Manhattan. Noted for ribeye "at its best."
Palmers Restaurant, (440) 238-8830, 17100 Royalton Rd, Strongsville, OH 44136
---
Lakewood's B-Ware specializes in vintage B-movies, psychotronic film and obscura. If you're looking for an old monster movie, this is where you go. Special collections include Beat generation, classic horror, and Something Weird video. Happily, they also seem to be building up their vintage Hollywood collection, including film noir, and stock such films as the atmospheric Red House with Edward G. Robinson.
B-Ware Video & Books, (216) 521-2210, 13367 Madison Ave, Cleveland, OH 44107
---
WRMR 1420 AM (formerly am850). Most of your favorite stars from 850am can now be found at 1420 -- from Bill Randle on "Jukebox Saturday Night" and the legendary "Big Show"; to one of everybody's favorites, "Captain" Carl Reese, who was recently recognized with the Lifetime Achievement and Living Legacy Awards for his years of dedication and service; to Jim Davis (who I like a lot with his funny jokes -- he's a real 'disk jokey'!) and many more of the fun, friendly voices once heard on the very popular WRMR 850. In fact, WRMR was so popular that when it was announced that ``The Music of Your Life'' was going to be replaced by a conglomerate-owned all-sports format, hundreds of listeners wrote and phoned in, resulting in the creation of 1420am - a new outlet for everyone's favorite DJs, catchy pop classics, and cool jazz. This article details the switch from 850 to 1420AM. WRMR also feature some excellent syndicated shows, including the "Sounds of Sinatra" with Sid Mark on Sundays from 5 until 7 PM and Stan Freberg's "When Radio Was," a program of old-time radio favorites at 10pm on weekdays. Spend 8 to 10pm on Saturdays with Dick Robinson and his American Standards by the Sea, as he broadcasts two hours of pleasant sounds live from his yacht.

See the the WRMR program guide for a complete list of shows, and don't forget to stop by the message board for a chat.
---
Relics is a vintage shop with a little bit of everything, and everything is reasonably priced. It's one of my regular stops of the Madison shops. Barbie collectables and blonde-wood furniture are specialties.
Relics, (216) 221-0040, 15502 Madison Ave, Cleveland, OH 44107
---
The historic neon signs atop Gallagher's Lounge in West Park were thoughtlessly destroyed in 2003 when the owner of that strip mall property gave it a facade facelift. Updates like this detriment the local community by robbing it of its historic architecture, leaving nothing but cheapness and ugliness for the present and future generations.
---
Early in Cleveland Mayor Jane Cambell's term, the Late Modern / Internationalist look of Cleveland Hopkins International Airport was thoughtlessly taken away without warning. As a quick fix to somehow "update" the airport's look, all of its 35+ year old historic signage was removed, and replaced with a new "retro," pseudo Art Deco look that vaguely emulates the achievements of the past, yet remains mired in the present age of anti-American corporate globalism. Witness the tacky new entrance sign, with its faux Deco silver hoops -- and a crease running down the middle! Instead of using this money to improve infrastructure or otherwise make things better where it really counts, the focus was only on the most superficial aspects. And the tragedy here, Modern Cleveland notes, is that in this superficial update, true historic signage and elements were lost forever, to be replaced with cheap-looking, phony historic signs that are not worth keeping!
---
Walking into Missimi's is like stepping into the past -- the record player with the same four or so songs in the background, the incredible 1940s Italian decor and the staff consisting of the owner as the chief cook and bottle washer and his wife as your waitress. You can tell that they put care into everything they do -- the homemade menus have a poem on them about "our" town and how proud they are to be a part of it. My favorite is the spaghetti dinner for two with red wine and antipasto salad. A favorite of the college students at nearby Kent State is the economical $9.95 "pan of pasta" to-go. Connoisseurs will savor the vintage family-run Italian restaurant atmosphere here.
Missimis Restaurant & Lounge, (330) 673-3306, 1313 W Main St, Kent, OH 44240
---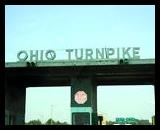 One of the original Mid-Century Modern Ohio Turnpike signs before it was carelessly demolished in 2003. The bland new tollbooths are no match for what they replaced, and I doubt they'll last half as long as the old ones did. Your tax money at work!
---
St. Vincent DePaul thrift stores have several locations about town. The Lorain Avenue location in West Park has two floors.
St Vincent Depaul Thrift Stores, (216) 391-9655, 16730 Lorain Ave, Cleveland, OH 44111
---
Barnacle Bill's Crab House on Detroit Avenue in the heart of Lakewood is one of the city's most noted and oldest seafood restaurants. The "library room" is recommended for larger parties.
Barnacle Bills Crab House, (216) 521-2722, 14810 Detroit Ave, Cleveland, OH 44107
---
Although this vintage doughnut counter isn't in Cleveland, Palcho's is worth stopping by if you're in the Akron/Kent area. Palcho's has used the same delicious cake-style doughnut recipe for over half a century. It's a one man operation, so don't be surprised if it's closed for a short period while a fresh batch is being made. Whenever I'm visiting Kent, I almost always stop by Palcho's for my favorite doughnuts!
Palcho's Donut Shop, (330) 678-1813, 911 E Main St, Kent, OH 44240
---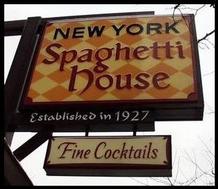 The landmark New York Spaghetti House closed in 2001.
---
The late Berea Theater also deserves mention here. It was the last small town, large-screen movie house in the southwest suburbs, a historic 1950s theatre with a large marquee right on Front Street, the "Main Street" of Berea. It had been well preserved up until the late 1990s, when it was torn down at behest of the mayor and most of city council, despite the protest and picketing of the people of Berea and other parts of Cleveland. The news received only a slight amount of media coverage (then-editor of Scene Mark Holan wrote about it, and it was a blip in the Free Times) but not nearly enough, and now it's a parking lot for yet another generic-looking "medical center" in a town full of medical centers and a large hospital right up the street. Thanks, Stan!
---
The Kahiki in Columbus has recently been replaced by yet another Walgreens. It deserves special mention here. Up until its demise, it was the most noted Polynesian Supper Club in the world. Many flew in or drove for several hours to see this famous landmark, but for lucky Clevelanders it was only a couple-hours ride south on I-71 to Columbus.

Often with lines out the door and hour waits to be seated, the popular Kahiki was worth every second of it. The fabulously preserved restaurant was recognized in publications from The New York Times to Esquire. It was given the award of "coolest bar in the world" by prestigious Food & Wine magazine just months before its final closing in 2000.

Businessman and final owner Michael Tsao traded in this landmark and piece of popular American culture and history for advancing a microwave frozen-food empire whose products (now under the misnomer of "Asian food") hypocritcally feature the image of the world-famous Kahiki which he had demolished for another Walgreens chain drug store.

For this egregious act, Roadside magazine awarded Tsao the "Lou-Roc Award" which is given to those who are directly responsible for homogenizing the American roadside and cheapening contemporary architectural standards.
---
Most recent update: $Date: 2006/05/14 20:18:46 $